RFP #1920-001 Addendum #1:
OCEANSIDE UNIFIED SCHOOL DISTRICT REQUEST FOR PROPOSAL ARCHITECTURAL SERVICES FOR GARRISON ELEMENTARY RECONSTRUCTION
The District has received three requests for clarification to the RFP #1920-01. To address these inquiries, Addendum #1 has been issued. Please refer to file provided for specific details.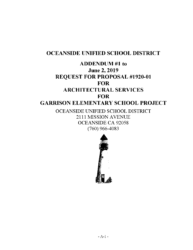 20190501 Garrison ES Addendum RFP #1920-001 Arch. Svcs.